Dog Daycare in Georgetown TX
---
Day Care or Day School:  An Option for EVERY Dog
Have a dog that doesn't know what to do while you're at work all day? Let him come play with us in one of our two day play options! You and your dog will both be glad you did.
Day Care is a place for SOCIAL dogs to be SOCIAL, but not all dogs are a natural fit for social activities. Dogs who are very hyper and easily aroused usually struggle in daycare. Dogs who over-arouse easily, will generally create unwanted situations that can compromise the "balance" of  the playgroup.
Regardless of your dog's temperament, we've created two fun, enriching options to keep them busy while you take care of business.
How It Works
---
Contact us or book online to schedule your first visit. We'll assess your dog's temperament and suitability for social Day Care activities, and at the end of the day, let you know which program is the best fit.
PLEASE READ ABOUT DAY CARE EVALUATIONS
We only offer Day Care Evaluations on Tuesday, Wednesday and Thursday.  Mondays and Fridays are too busy for evaluations.  If you make an online reservation for an evaluation on a Monday or Friday, it will kindly be denied due to availability.  If you have ANY questions, please call us at 512-686-2780.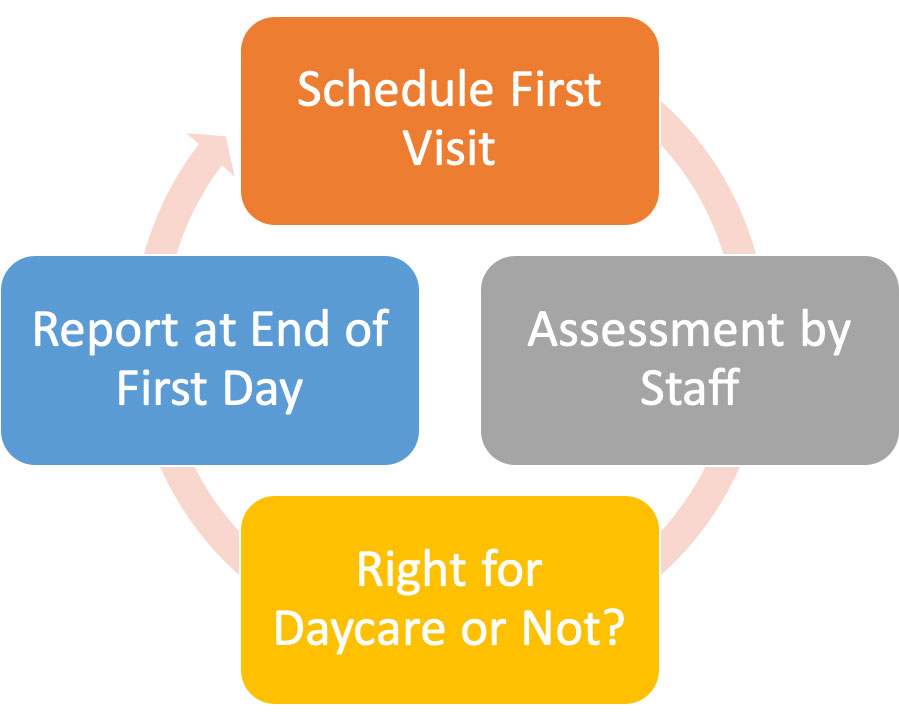 Details & Pricing
---
Day Care
Our Pet Day Care Center in Georgetown, TX lets your dog spend his energy with the pack and learn how to socialize and play with other dogs! During Day Care, dogs are allowed to play outdoors under the direct supervision of our staff.
Due to such an increased demand on our Day Care services, we have had to modify our operations so that we are not over capacity.  The new rules are in effect immediately.
Day Care is offered Monday – Friday – No Weekends
Day Care hours are from 7 AM – 6:30 PM
Reservations are REQUIRED for Day Care
Reservation is not CONFIRMED until a CONFIRMATION EMAIL is sent
If you arrive with no reservation, then the DROP-IN RATE of $37 will apply
Reservations may be made up to 2 WEEKS in advance
Must have valid credit card on file to make reservations
Can not make same-day reservation
Must cancel at least the day prior to scheduled Day Care day
If failure to timely cancel or no-show, you will be charged for that day
Full Day Play
Regular Price
Drop-In Rate - Daily
When No Reservation Was Made
Day School
Because play-groups aren't right for every dog, we're happy to have an alternative for dogs who just can't handle the groups.  We take a personalized, one-on-one approach to your dog's day in our innovative Day School Program. Mentally engaging activities, training, and physical exercise are combined for a fun-filled day away from home.
We offer Day School on Monday, Wednesday and Friday!
Your dog's day will consist of a varied schedule that will include the following:
Structured outdoor walks

Fetch/free-play in play yard
Canine treadmill – walking & jogging
Fun learning drills
Enrichment activities
Obstacle learning – jumps, ramps, etc.
Lots of one-on-one attention
Micro-Groups (2-3 dogs who play well together)
Full Day School
Regular Price
Reservations Are Required
Monday-Wednesday-Friday Only
Drop Off 7:00 AM to 9:00AM
Pick Up 4:00PM to 6:30PM
DROP IN RATE $43
Day Care Policies
---
All dogs must be fully vaccinated and have a current Bordetella (Kennel Cough) vaccination. Simply have your veterinarian fax your pet's records to us at 512-532-0309. If your dog shows aggression during day care, the staff reserves the right to place your dog in a kennel until you return for the safety of your pet and other guests.
LUNCHES:  Please do not bring a lunch for your dog attending daycare unless there is a medical reason for it.  Due to the nature of play and activity, most dogs won't eat it.
Daycare Services Are Not Available During The Following Times Due To High Boarding Occupancy:
On Saturdays and Sundays
On the Wednesday before Thanksgiving or the Friday after Thanksgiving
On the 23rd and 26th of December
**Your dog must be socially accepting of other dogs to be included into our Day Care play groups.  If you're not sure, our highly trained staff will be happy to help assess your dog to find out.  If your dog is not socially accepting of other dogs, we may be able to offer some training to get him/her to that place! **